Linear motion components such as bearings, shafts, actuators and slides are heavily utilized in many types of industrial machines, so the more that engineers can streamline component design, configuration and ordering, the more they can lower their production costs.
A typical palletizer, for example, might use up to 20 motion control components, which must be thoughtfully integrated with other machine parts. Going through the steps to specify even one component, such as a shaft, can take hours. Specifying the remaining motion control components extends the process from hours to days, and once you've integrated all components into a shipment-ready palletizer, you're looking at weeks or even months.
New online tools, coupled with online libraries of pre-selected and tested component specifications, simplify integration across all machine design phases, reducing selection, configuration and ordering time to mere minutes, with shipment following as quickly as the next day.
E-Commerce goes industrial
Buyers of consumer products such as laptop computers or home entertainment electronics have long enjoyed the benefits of online selection, configuration and ordering. However, e-commerce for products such as motion control systems has lagged behind, mostly due to the scope and complexity of their specification options.
Traditional selection technology often drives users down multiple selection paths to unprioritized results. For example, a machine designer needing a prototype or sample of a motion component may have to sort through hundreds of options before getting to an optimal part, which can take hours.
This online specification process is especially challenging for a designer who is selecting components for parts of an application that may not fall under their core expertise. For example, if they search for "linear bearings," they might get hundreds of results for die sets, linear guide rails, linear shafting, support rails, sleeve bearings and square bearings. They would still then be required to sort through, compare and analyze the results before narrowing down to the most 'suitable' component that meets their needs.
The need for speed
Quick and easy selection is especially critical today as engineering teams are under increasing pressure to deliver solutions faster than ever. Projects are also becoming more complex, incorporating advanced control, IIoT, digital manufacturing and other innovations necessary to remain competitive. Advanced online tools can help designers meet these demands, while avoiding misapplications and downtime waiting for reordered parts.
On-demand manufacturing has been a key driver in the move toward industrial online commerce. Applications such as 3-D printing, CNC machining and injection molding have been among the first to benefit from e-commerce. Online tools are eliminating the need for designers to create a 2D tolerance drawing, send it to a local vendor and wait for a quote. Designers can see in real time how to adjust variables such as pricing and lead time, making projects more affordable without jeopardizing the basic application. More advanced tools, such as those from Thomson Industries, allow for a more granular selection, enabling specifications such as bearing grade roundness, surface finish or straightness. (Figure 1.)
Compressing time
A designer needing a component for transferring a load on an automobile assembly line may require a custom length shaft with a tapped mounting hole on the end. Using earlier industrial e-commerce tools, they would first design the component in 3-D modeling software such as Solid Works. They would then create a dimensional and tolerance print, submit that to a vendor and wait for a manual quote, which would then generate a bill of materials (BOM) that is passed to purchasing. But if they wanted to modify quantity or implement design changes, they would need to restart the whole process again.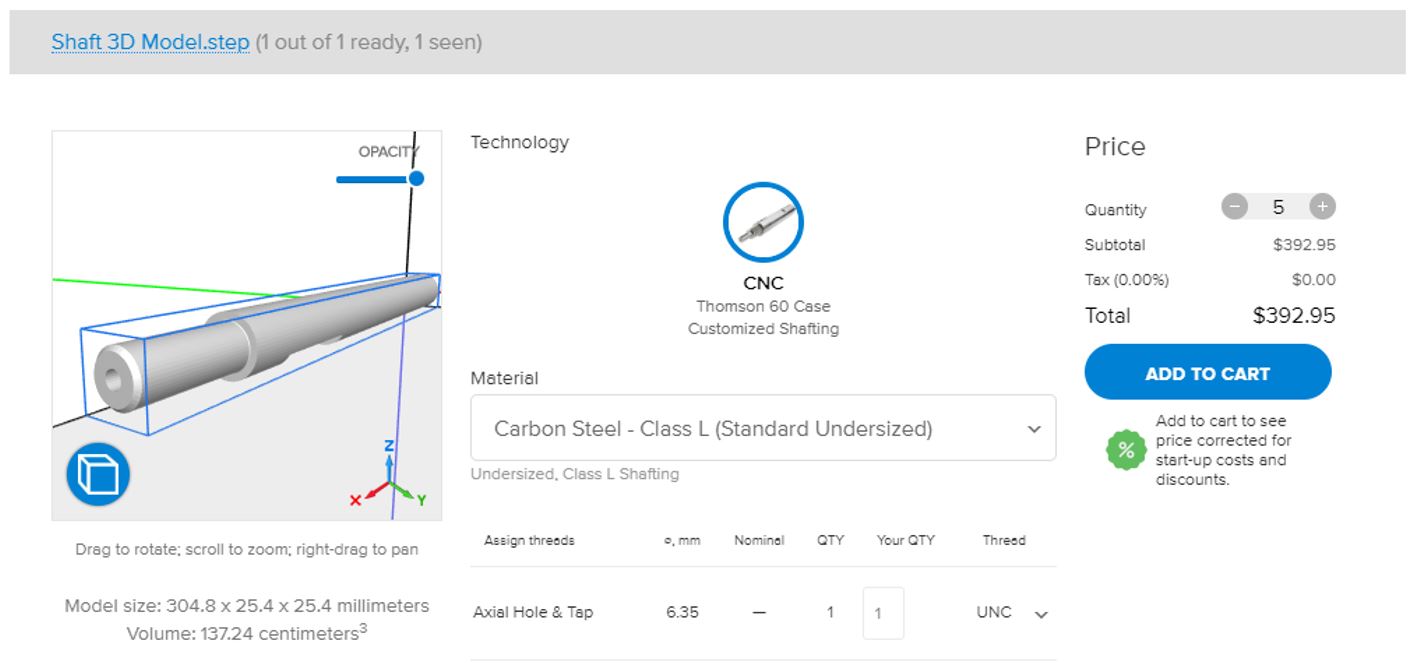 Figure 1: Thomson's new online Instant 3D Quote Tool for special machined shafting enables designers to upload a drawing and see in real time how configuration changes impact pricing and lead time. They are then presented with a final quotation.
Today, designers can drag a STEP file into a modeling program and then upload it to an online tool. With shafting, for example, the tool will prompt to see whether it requires a reduction, holes, etc. It would also notice if there is an axial hole to tap, and ask about what kind of threads, if any, would be required. It would then offer an instant quote.
The designer can customize and modify delivery requirements or change material from carbon steel to stainless and see immediately how those changes impact price. They can also see options for post-production and if they make a change to their model later, they simply upload the new file and get revised pricing and delivery. With advanced online tools, the process can be completed within minutes.
Application focus
With traditional tools, a designer needing bearings for use on a train would have to know in advance what types of bearings could be used outside. With advanced modern tools, all they would have to know is the general type of bearing they need and the kind of support it requires. They would then be presented with images of standard bearing types and quickly see which are designed for environments that are potentially corrosive or subject to moisture.
Figure 2: The new generation of online product selection tools from Thomson are intuitive and fast, enabling designers to begin with familiar images and narrow their selections based on their intended application.
Next, clicking on one of the options immediately shows load, stroke and other options, along with pricing and options for ordering. Design engineers can then quickly download a CAD model to insert into their own drawing. (Figure 3)
Figure 3: Once designers are confident that they have the product they need at the right pricing and delivery; they can quickly download a 3D CAD, share a dynamically generated spec sheet and/or buy directly.
Transformation underway
All of this capability is here and in full use today. It may not yet be available for every motion control product and every machine, but the industry is moving swiftly in that direction. Further progress is mostly a matter of populating the existing tools with the right content and training the designers to take advantage of these new capabilities. ¬