Can't find what you're looking for? Go to the Product Selector
AQT060-003
Gearhead, True Planetary, AquaTRUE, Size 60, 3:1 Ratio, 13 arc-minutes Backlash, Spur gearing, Inline Stainless Steel Output Shaft, 300 Series Stainless Steel Housing, IP66, IP67 and IP69K
---
Micron AquaTRUE gearheads meet the strict requirements of harsh environmental applications such as food and beverage handling, packaging and dispensing. IP66/IP67 and IP69K protection handles caustic cleaning chemicals and high pressure washdown. The 304 rounded stainless steel housing eliminates rust and corrosion.
NSF/ANSI 169 certification.
Round housing with no external seams.
300 Series stainless steel.
| Dimension | Value |
| --- | --- |
| [A] | 14 mm |
| [B] | 38 mm |
| [C] | 52 mm |
| [D] | M5x0.8-6H |
| [E] | 12 mm |
| [G] | 6.9 mm |
| [H] | 43 mm |
| [I] | 5 mm |
| [J] | 60 mm |
| [L] | 91.6 mm |
| [R] | 16 mm |
| [S] | 38.5 mm |
| [T] | 92 mm |
| [V] | 25 mm |
| [Y] | 2.5 mm |
| Specifications | Value |
| --- | --- |
| Backlash | 13 arc-minutes |
| Bolt Tightening Torque - Final | 1.09 Nm |
| Bolt Tightening Torque - Pre | 0.05 Nm |
| Certification | NSF/ANSI 169 |
| Duty | Cyclical Duty |
| Efficiency | 93% |
| Flange Square | 60 mm |
| Helical Crowned | Spur gearing |
| Housing Material | 300 Series Stainless Steel Housing |
| inline, Right angle | Inline |
| IP Rating | IP66, IP67 and IP69K |
| Material | Stainless Steel Output Shaft, 300 Series Stainless Steel Housing |
| Number of Stages | 1 |
| Ratio :1 | 3 |
| RPM Maximum, Input | 4000 RPM |
| RPM Maximum, Output | 1333 RPM |
| Shaft - Single/Dual/Hollow | Single |
| Shaft material | Stainless Steel Output Shaft |
| Washdown Compatible | Yes |
| Weight | 2.4 kg |
Performance Specifications
Ratio
20.000 Hour Life
T Peak
NM [in-lb]
Tr
(1000 rpm)
Nm [in-lb]
Tr
(2000 rpm)
Nm [in-lb]
Tr
(3000 rpm)
Nm [in-lb]
Tr
(4000 rpm)
Nm [in-lb]
NaN
[]
[]
[]
[]
55 []
J
kg-cm2
[in-lb sec2*10-4]
Torsional Stiffness
Nm/arc-min
[in-lb/arc-min]
Max operating
temp
Min operating
temp
Torque
Capacity
Nm
Peak Torque
in-lb
IP rating
Certifications
[]
[]
IP66, IP67 and IP69K; IP66, IP67 and IP69K; IP66, IP67 and IP69K; IP66, IP67 and IP69K
NSF/ANSI 169; NSF/ANSI 169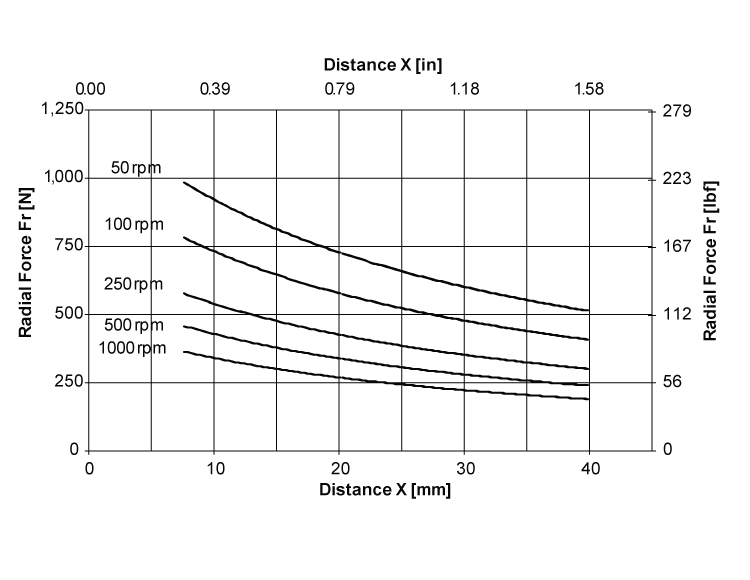 Speed
rpm
Axial Load
N [lb]
50
2542
100
2017
250
1486
500
1180
1000
936