Achieving high-integrity, high-gloss automotive finishing depends heavily on adequate curing of coatings between multiple layers. Curing time is necessary for drying and for chemical reactions to complete before application of the next coating layer. Gas catalytic infrared radiation (IR) is emerging as a preferred heat source for curing, but maximum curing is limited to those areas that are directly in the line of sight of the IR beam. U.S. Autocure, an Arizona-based coating and automation specialist developed an automated system that delivers IR beams evenly across contoured automotive surfaces but had to overcome a major challenge: moving heavy metal booms and shutters smoothly, quietly and in compliance with stringent safety regulations for spray booths.
A revolution in IR curing
After spraying on the primer, paint or clear coat, most motor vehicle coating operations cure each layer by heating the air inside the spray booth, which can take more than 30 minutes per coat, and sending the project on to the next operation only about 60 percent cured. This is usually cured enough to take a second coat but not ideal. However, a growing number of body shops have begun directly heating the coatings with IR waves instead of heating the entire spray booth. This new method can reduce coating time but has one significant drawback.
Because most IR heating lamps are anchored in a fixed position and IR beams heat primarily what is in direct line of sight, heating of contoured automobile surfaces is uneven. Portable IR lamps provide more flexibility but require more technician time and manual positioning, which can jeopardize uniformity.
U.S. Autocure's Phoenix 1000 curing system, however, solves this problem with a moveable gantry framework that automates the movement of IR heat lamps through 13 axes of motion to optimize even curing of the entire vehicle, including door tops, rocker panels, top and bottom of free-standing parts, and bumpers.
"Our framework fits into an auto body shop's spray booth and rides along two tracks on the floor," said U.S. Autocure engineer Mark Abel. "As it scans front to back, a boom containing IR lamps moves up and down, adjusting to changes in the vehicle's height. At the same time, shutters housing heaters on each side of the framework fold in and out in a pre-programmed sequence to accommodate contours as needed. This enables an automatic run option in which cameras on each side are also moving up and down, reading the width and the height of the vehicle and sending positioning data back to the controls."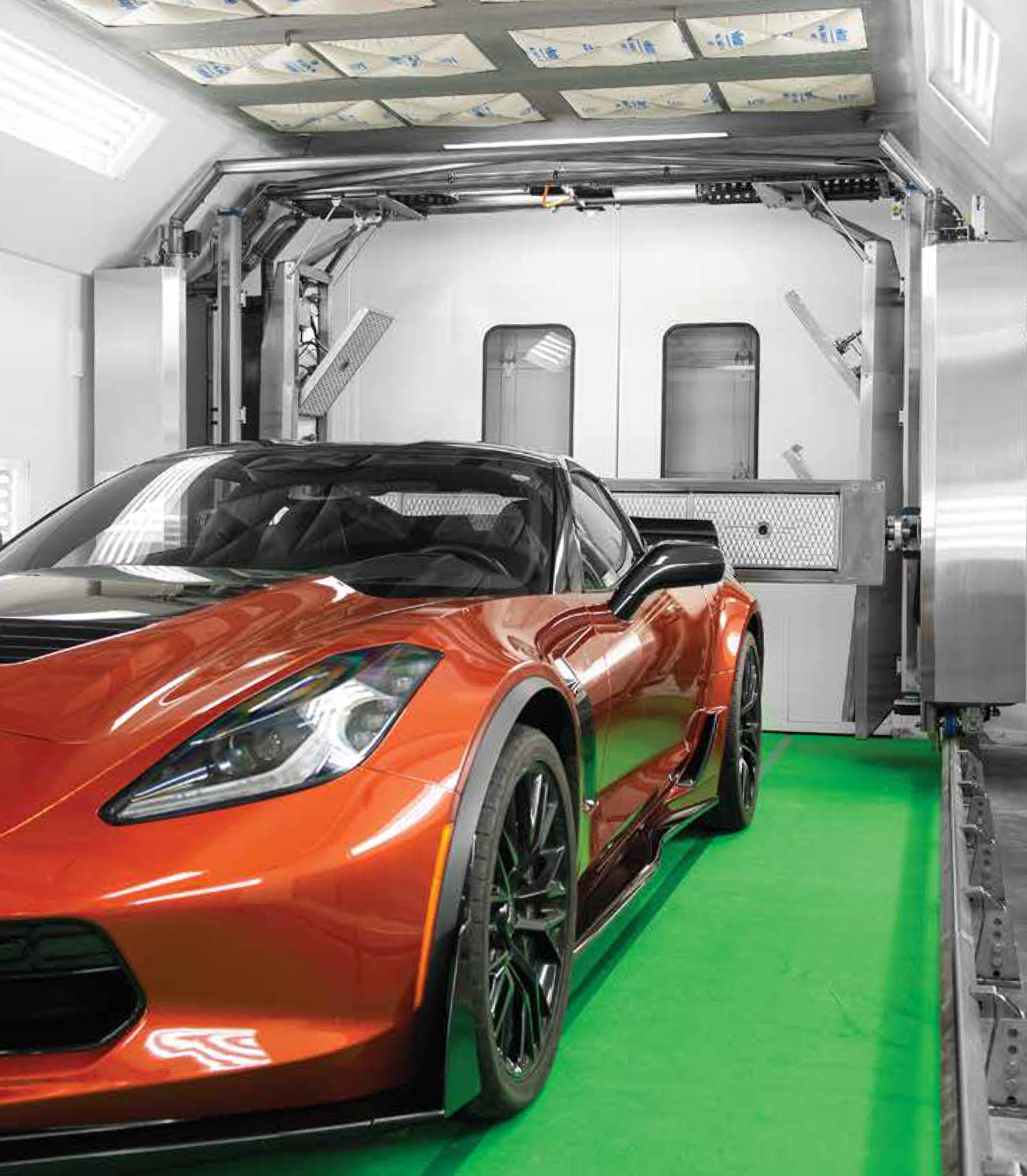 U.S. Autocure's Phoenix 1000 curing system is a fully automatic digital robotic system that uses artificial intelligence (AI) to optimize curing of automobile coating layers.
Breaking through the noise
With a plethora of parts in motion, keeping the Phoenix 1000 system moving quietly and with minimal vibration presented a major challenge.
"The curtain and shutter housings are sheet metal, so there is potential for vibration and noise as it moves," said Abel.
"The curtain is carrying four heaters, and the shutters are housing three heaters, along with various motors, wiring, gas and plumbing fixtures. As such a heavy structure moves, it vibrates, which can damage electrical components, heaters and sensors. Part longevity is a major concern."
To address this concern, U.S. Autocure engineers tested several motion products, including screw shafts and exposed ball screws, but everything they tried caused too much vibration, didn't move fast enough, couldn't support the weight or had other issues — until their automation distributor suggested linear motion systems from Thomson Industries.
"Everything we looked at before Thomson required metal-on-metal contact," said U.S. Autocure Managing Partner Mickey Meyer. "That was a problem not only from noise, vibration and wear perspectives, but it is also a safety issue. We're in a Class 1 Division 2 environment and any sort of friction that could cause a spark could ignite atomized paint vapors. With the Thomson linear units, we were able to use plastic nuts, which also contributed to less wear and energy usage."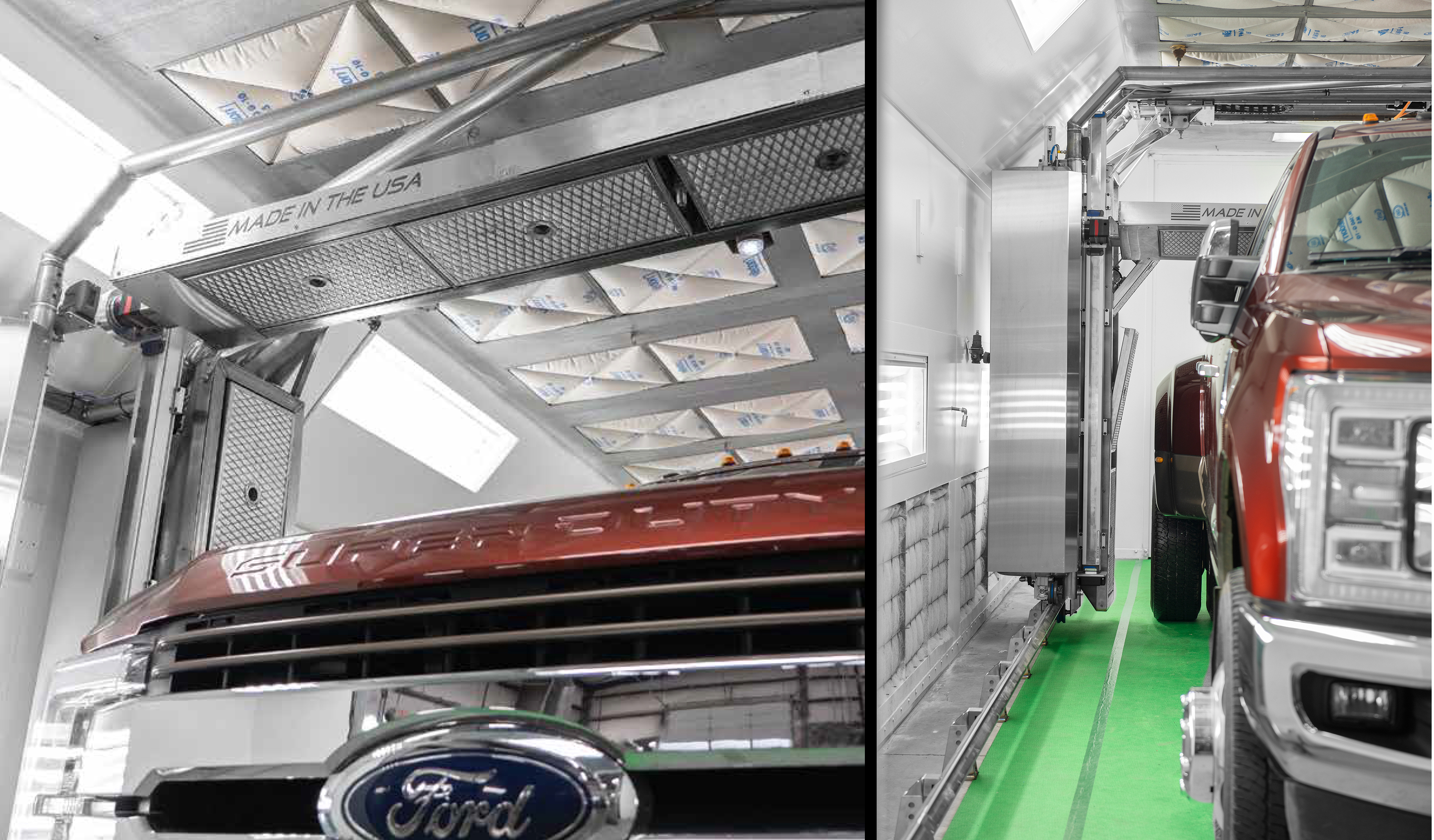 Deploying the Thomson Movopart MG-K linear units helped U.S. Autocure achieve smooth and quiet movement of overhead and side IR heat lamps, enabling them to adjust to contoured motor vehicle surfaces.
Abel said that Thomson's reputation for reliability contributed to the choice as did the fact that their cost was lower than that of other linear motion systems in the same class and size. Customizability was also a factor. Thomson application engineers worked closely with the U.S. Autocure team to change the number of gear teeth in the design to attain the optimal speed profile they were seeking.
"If the beam travels too slowly, it could burn the finish," said Abel. "If it moves too fast, the chemical reactions won't take. We needed to be able to adjust to find the sweet spot for each vehicle coating combination. Inconsistent application can also result in tackiness and missed spots."
Delivering the cure
U.S. Autocure implemented three different sizes of the Thomson Movopart® MG-K linear motion systems. The Movoparts use a ball screw driver and a saddle that rides along the top of the unit. A cover band stretches across the unit to protect the screw and the guide from contaminants and eliminate the need to adjust the tension as it wears.
The Movopart units attach to the system's stepper motors via Thomson RediMount™ motor mounting adapter kits, which are modular components that enable seamless installation in only a few minutes.
"The Thomson quick mounting technology helps us do things modularly," said Abel. "We assemble the machines in our shop, then remove our shutters and curtains and put them all in the trailer with the rails and deliver to the customer. We reassemble everything there after installing rails. It's just six pieces going back together."
Two vertically mounted Thomson M100 linear motion systems move the boom carrying the overhead heaters up and down as the system moves from front to back. Two Thomson MG07 units are mounted horizontally to direct the motion of the shutters in angling the lamps for maximum coverage and to dodge protruding components such as mirrors. Two additional Thomson M100 units are vertically mounted to control the up and down motion of the cameras to monitor vehicle dimensions and send positioning data to the motion control components.
The combination of linear motion systems positions the 10 heaters to provide complete coverage across the roof, sides and back of the vehicle. When the curing cycle is done, all parts will have had equal exposure, contributing to an even finish with no burned spots, tackiness or missed areas.
Thomson Movopart linear motion systems translate power from stepper motors into programmable, up-and-down motion to enable IR heat lamps to maintain the right distance across the top of the vehicle.
Managing coating information
Underlying the motion are pre-programmed routines carried out by PLCs connected to the servomotors that power the Thomson linear motion systems. These are stored coating routines for the various materials used in the process, as well as for modifications related to each vehicle. Also connected is a weather station that enables adjustment of heating distances based on stored manufacturer's temperature and humidity parameters for various coating recipes. Individual painters can also store and retrieve personal routines.
Operators interact with the system through an HMI on the main panel and a tablet. They control the immediate movements of the system with up and down arrows on a touchscreen, controlling scan parameters. Images from the camera show them exactly where the car is situated in the booth.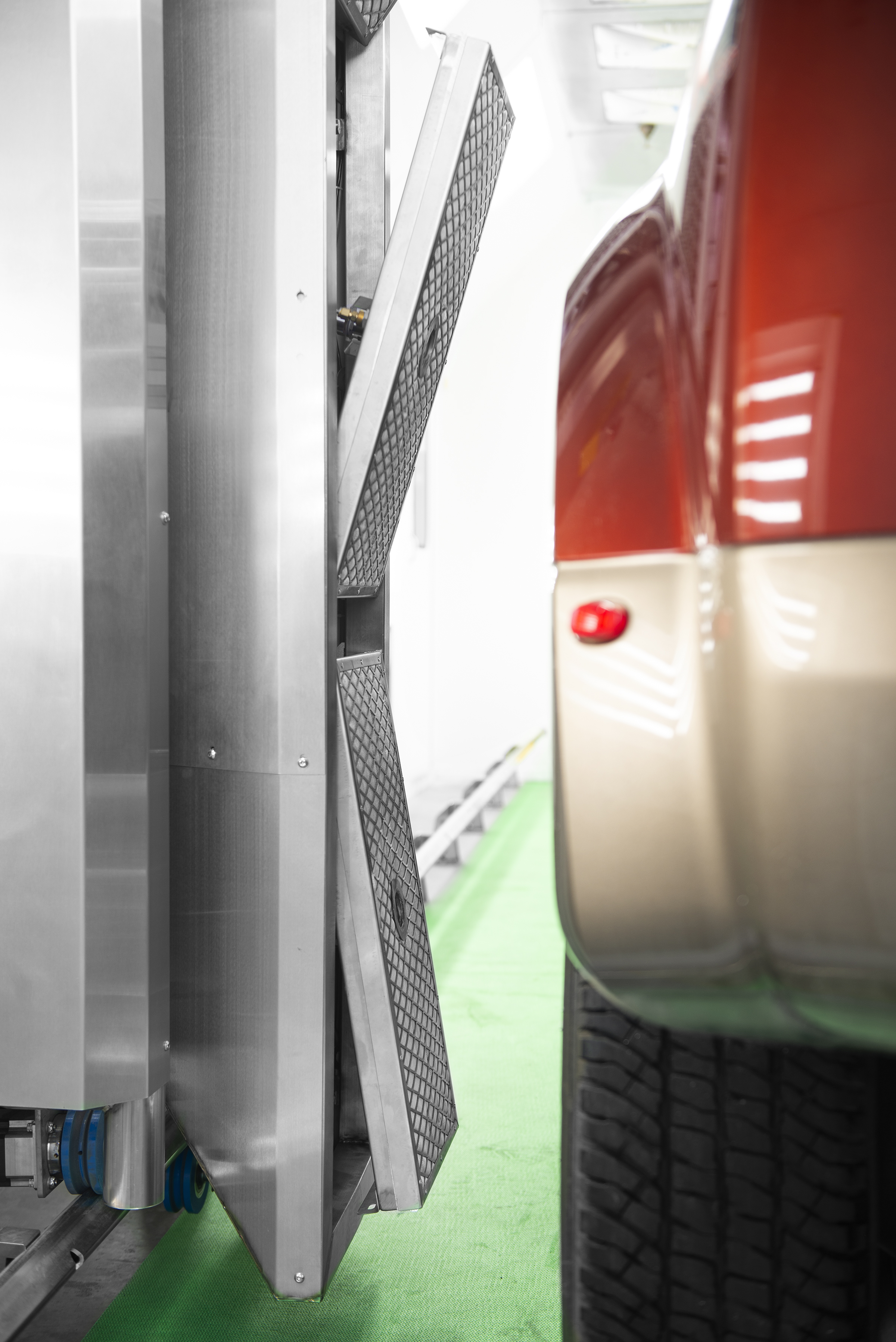 Thomson linear units mounted on the back of the upper shutter enable operators to position the heat lamp optimally in relation to the contoured wheel well of the vehicle.
Auto coating cure-all
Using the Phoenix 1000, automobile curing applications that would have required 30 minutes using conventional methods can usually be done to a higher quality in only 10 minutes. This enables expansion of plant capacity without adding additional spray booth real estate, potentially paying for itself in only 9-12 months.
Currently installed U.S. Autocure systems have proven the system's value for body shops. Now the five-year-old company is expanding through the U.S., developing models for auto production facilities and conducting research into materials technology. The company has also gotten attention from heavy industry and has designed two new machines for factory and assembly line applications.
The reliable, smooth and quiet performance of the Thomson Movopart units has won them designation as U.S. Autocure's default linear motion provider. As their business grows, Thomson products will likely be moving right along with them.