With advanced control capabilities, environmental resistance and strength that rivals linear components many times their size, select electric actuators are destined to be your go-to solution for many of your demanding applications.
Presenter: Travis Gilmer, Product Specialist - Linear Actuators
This webinar addresses three linear motion design challenges that our new generation of smart actuators can help overcome: space constraints, lack of controllability and durability.
A Need for Small Linear Actuators:
Machine designs are getting more compact, requiring smaller linear actuators.
Power density is important to accommodate large loads despite space constraints.
Components must fit design requirements without compromising the automation functions and benefits of larger specified parts.
Traditional industry solutions are complicated/too large.
Application Examples
Ladder adjust, auger fold, and grain bin flaps on a combine.

Use of small linear actuators to automate the machine and help reduce overall size.

Cab adjustments on forklifts, packaging machines and conveyors.

The smaller the linear actuator, the more valuable it is for fitting into machines in which there are numerious components that must be accounted for.
Control Network Integration
Traditional systems require control for every axis of movement.
External control systems are expensive or complicated to manage.
Some older technologies simply cannot be electronically controlled.
Application Examples
J1939/CAN bus/CANopen® control, position feedback and low-level switching.

Small linear actuator's onboard electronics allow for integrated controls, reducing the space taken up by external controls.
Long-Lasting Performance
Most industrial appliations need to withstand harsh environments or conditions.
Maintenance concerns are commonly associated with traditional hydraulic or manual systems.
Industrial automation applications need reliable performance throughout their entire lifecycle.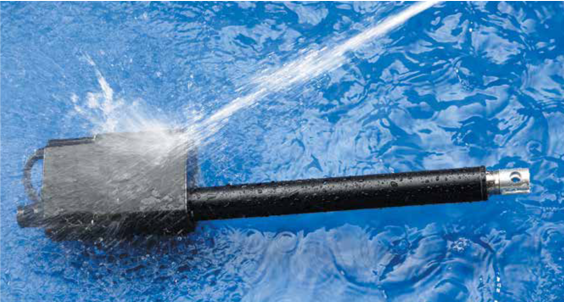 Thomson Small Linear Actuators
Power Density

Class-leading load handling in a small package.

Controllability

Integrated PCB assemblies with various feedback options.

Longer Life

Industry performance and design capability tested with proven results in the field.