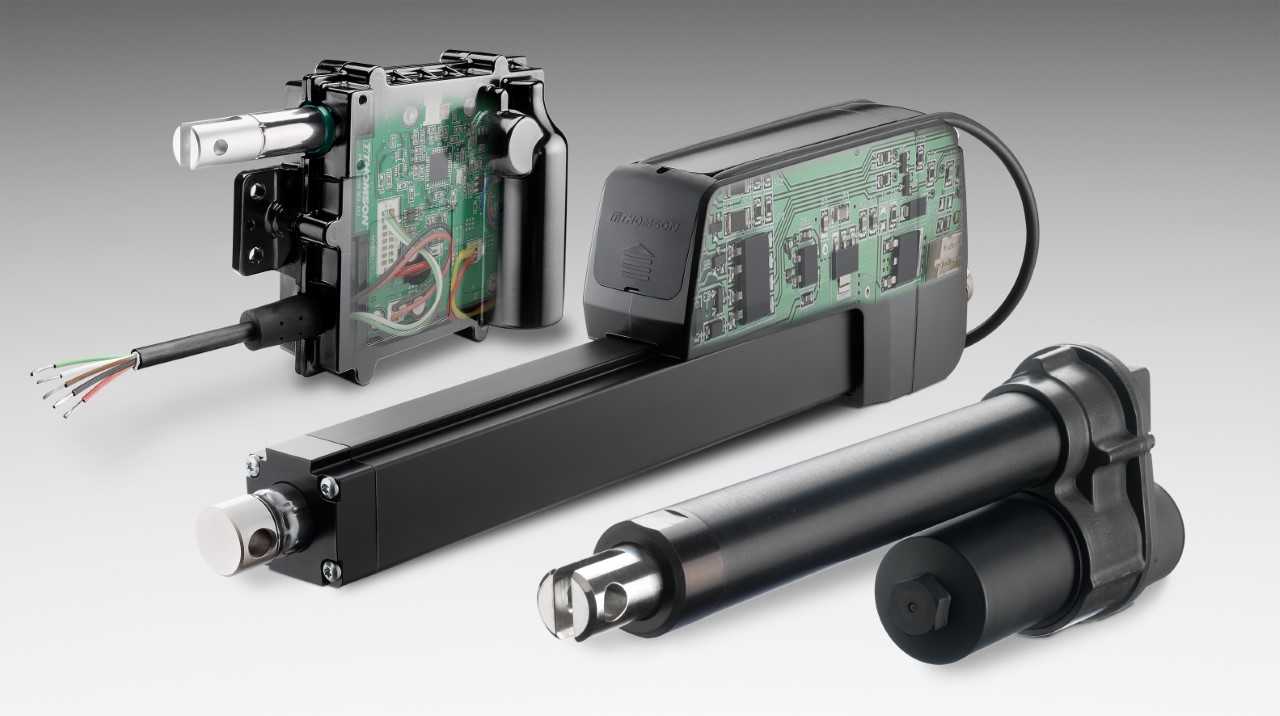 19.03.2019, Wolfschlugen, Germany - Thomson Industries, Inc., will be attending the BAUMA 2019 trade fair alongside Altra Industrial Motion Corp. BAUMA, taking place in Messe München, Munich, on 8-14 April, brings together those in the construction machinery industry and provides a platform for companies to present their ground-breaking innovations all under one roof. Thomson will showcase its wide range of electromechanical linear actuators, including Electrak HD, Electrak Throttle and Max Jac®. Attendees will also be able to discuss in detail with Thomson representatives the vast portfolio of application engineering solutions provided by its actuators.
The Thomson Electrak HD electromechanical linear actuator is a platform integrated with onboard electronics, which enables enhanced control functions that were previously external directly into the actuator. Synchronization, for example, allows for motion integration of two of more HD units to share and evenly distribute a load. Furthermore, the Electrak HD provides high load ranges up to 16 kN that are ideal for hydraulic-to-electric conversion applications, stroke lengths up to 1000 mm, and a built-in J1939 CAN bus option, enhancing controllability, eliminating individual controls and simplifying OEM machine design.
The Electrak Throttle actuator, which is ideal for industrial vehicles requiring throttle control, allows for high load ranges up to 130 N and stroke lengths up to 50 mm. The product also offers onboard electronics, J1939 CAN bus options, and a space-saving design with built-in bracketry and a rugged aluminium housing that provides IP67/IP69K sealing.
The Max Jac is a heavy duty actuator that can hold load ranges up to 800 N, with stroke lengths up to 300 mm and a rugged aluminium housing with IP66/IP69K. It offers high precision and a high degree of corrosion protection, ensuring longevity and reliability, and can be easily customised to match application requirements. The Max Jac can be used in many types of applications but thrives in more demanding and harsh environments.
Thomson experts will be on hand throughout BAUMA 2019 at stand 305, Hall 4 with Altra Industrial Motion to discuss the company's wide selection of actuators. For more information, please visit www.thomsonlinear.com.
About Altra Industrial Motion Corp.
Altra Industrial Motion Corp. gathers leading brands that designs motion control and power transmission products, including Thomson Industries, into a united group of technology solutions. As a team, Altra provides design engineers with decades of application engineering expertise to help find the just-right solution across a host of industries.
About Thomson
With more than 70 years of motion control innovation and quality, Thomson is the industry's premier producer of Linear Ball Bushing ® Bearings and Profile Rail Bearings, 60 Case ® Shafting, ground and rolled Ball Screws, Linear Actuators, Gearheads, Clutches, Brakes, Linear Systems, and related accessories. Thomson invented the Linear Ball Bushing Bearing in 1945, and has set the standard ever since with an unsurpassed set of mechanical motion control solutions serving global commercial and aerospace & defense markets. Thomson Industries, Inc. has facilities in North America, Europe and Asia with over 2000 distributor locations around the world.
Thomson Industries, Inc., 1500 Mittel Boulevard, Wood Dale, IL 60191-1073; 1-540-633-3549; 1- 540-633-0294 (fax); Thomson@thomsonlinear.com; www.thomsonlinear.com.