Kristianstad, Sweden – Thomson Industries, Inc., a leading manufacturer of linear motion control solutions, will be sponsoring Dirt-Torpedo, a university project team competing in Elon Musk's "Not-a-Boring Competition" for tunnel building. Thomson will provide the team with 20 Electrak® HD smart electric actuators with CANopen® control functionality, which will aid in the development of the boring machine.
Elon Musk's Boring Company announced the competition in the fall of 2020 with an aim to build a tunnel infrastructure required for quick, safe and comfortable transit at a low cost. Based in the United States, teams will be competing to build a tunnel boring machine (TBM) to drill a tunnel in the Mojave Desert with a diameter of 0.5 metre and a length of 30 metres. Competition categories include:
Fastest to complete tunnel
Fastest to complete tunnel and a driving surface
Most accurate guidance system
Thomson will be sponsoring DHBW Baden-Wuerttemberg Cooperative State University in Mosbach, Germany, which developed Dirt-Torpedo, one of the 12 finalists shortlisted for the competition. The idea of a rapid, precise and versatile TBM is the driving force for its development. Their boring machine's design/functionality is similar to that of an earthworm, and the Thomson Electrak HD actuators are required for three propulsion units that will be the key factor in the boring machine's movement.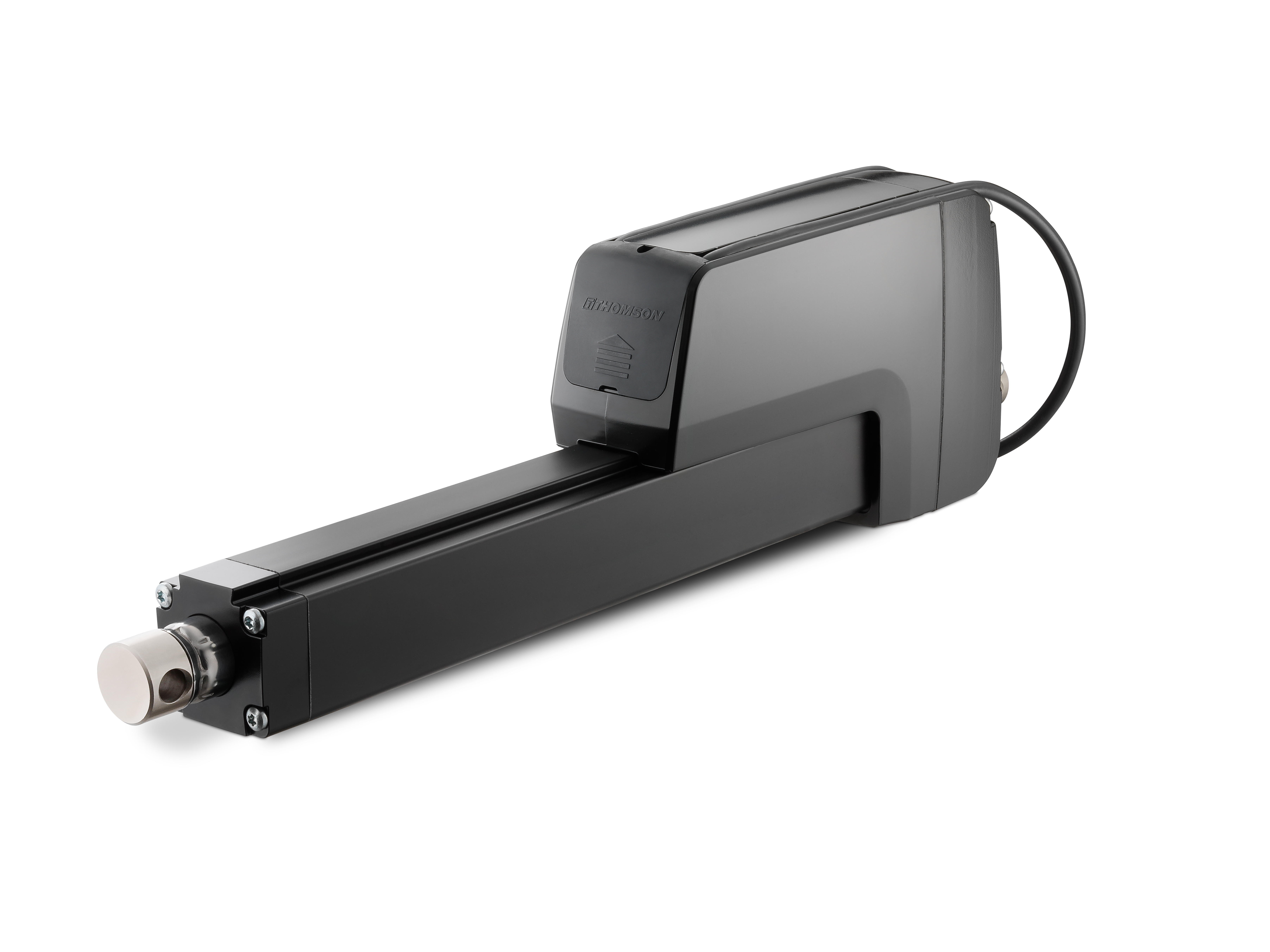 The Thomson Electrak HD smart electric actuator was chosen by Team Dirt-Torpedo due to its controllability, strength and flexibility in a compact envelope.
Thomson launched its line of heavy duty Electrak HD electric actuators with the CANopen technology last year. CANopen is an open industrial integration protocol based on the Controller Automation Network (CAN). Originally designed for industrial systems, it is quickly becoming the standard for factory automation systems, particularly AGVs and PLC-controlled material handling systems.
"We are proud to be supporting the creative and motivated Dirt-Torpedo team in this competition, and providing them our line of Electrak HD actuators," said Håkan Persson, product line manager for actuators at Thomson. "These smart actuators are powerful and eliminate the need for standalone controls. They are designed to perform in the most extreme conditions and tested to meet and exceed the toughest OEM mechanical and electronic component acceptance tests available today. We are confident they will be an integral contribution to the team's machine design."
"We are really excited to be one of the finalists in this competition," said Adrian Fleck, Team Dirt-Torpedo. "We needed a reliable and efficient partner to ensure that the tunnel boring machine construction process runs smoothly. The Electrak HD CANopen actuators are incredibly compact and robust, and the CAN bus technology makes them even more flexible and offers a more precise control of the machine Gerhard Lauth, managing director of Foundation Pro DHBW Mosbach, involved in raising funds for the project, added, "I am confident that Thomson's generous in-kind donation will give a significant boost to the Dirt-Torpedo team and bring them closer to success."
For more information on the Thomson Electrak HD actuators and their capabilities, visit:
https://www.thomsonlinear.com/en/products/linear-actuators/electrak-hd
To know more about the competition, team Dirt-Torpedo and the project, visit:
https://www.boringcompany.com/competition
https://www.mosbach.dhbw.de/studium/studienangebot-bachelor/maschinenbau-konstruktion-und-entwicklung/tunnelbauwettbewerb-not-a-boring-competition/
About Thomson Industries, Inc.
With 75 years of achievement in motion control innovation and quality, Thomson is the industry's premier producer of Linear Actuators, Linear Ball Bushing® Bearings and Profile Rail Bearings, 60 Case® Shafting, Ground and Rolled Ball Screws, Linear Systems, and related accessories. Thomson invented the Linear Ball Bushing Bearing in 1945 and has set the standard ever since with an unsurpassed set of linear motion control solutions serving global aerospace and defense, medical and health, factory automation, food processing, and mobile off-highway markets. Thomson, a brand of U.S.-based Altra Industrial Motion, has facilities in North America, Europe and Asia with more than 2000 distributor locations around the world.
For more information
Thomson Industries, Inc., 1500 Mittel Boulevard, Wood Dale, IL 60191-1073; 1-540-633-3549; 1-540-633-0294 (fax); Thomson@thomsonlinear.com; www.thomsonlinear.com