25.04.2018, Kristianstad, SWEDEN – Thomson Industries, Inc., a leading manufacturer of mechanical motion control solutions, has introduced a new Linear MOTIONEERING™ online tool that helps design engineers accurately size and select electric linear actuators. The powerful, self-service functionality of the tool provides an interactive series of questions, making it easier for users to benefit from Thomson's extensive application engineering knowledge base. The online questionnaire starts with an analysis of motion control requirements, which leads quickly to an ideal actuator solution.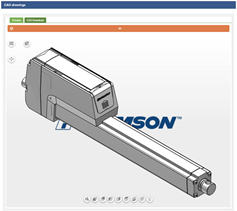 The Thomson online sizing and selection tool assists design engineers in quickly and accurately choosing an electric linear actuator for their projects.
"Given the inherent design of our electric linear actuator products, it's not uncommon for us to see misapplication in cases where a user attempts to select a product without the assistance of our applications engineering team," said Håkan Persson, Product Line Director Thomson Linear Actuators. "Working from a spec sheet alone can get one close to the right match, but unless it is done within the context of a few fundamental application parameters, it is easy to end up with a costly mismatch. Our applications engineers are trained in an interview protocol that optimises selection and are readily available, but many designers still prefer to go on their own. We respect that desire and have created our Linear MOTIONEERING tool to help them do that."
The new selection tool guides users through the journey of sizing up an electric linear actuator solution to fit their application. It asks the same kinds of questions about mechanical, electrical and control requirements that a Thomson applications engineer would ask. Then, based on the responses entered, the Linear MOTIONEERING tool returns the options that would best meet their requirements. The following features help bring users to the right selection faster:
Outcome-driven focus. The new tool guides users in clarifying application parameters up front for optimal selection
Broad range of feature options. The tool presents more options for voltage, stroke, control, adaptor location and custom connectors than users might otherwise find from searching on their own.
Trade-off management. The tool presents results in a way that makes it easy to parse trade-offs among the options, revealing, for example, the impact of position feedback on cost or cost parameters on product life.
Extensive help resources. As users proceed through the questionnaire, readily available help buttons provide additional information, tutorials and videos that help them clarify aspects of the questions. The help button in the environmental conditions section, for example, would lead to a tutorial on understanding ingress protection (IP) ratings.
The new Linear Actuator MOTIONEERING online tool provides information on pricing, lead time and replacement parts.
Once they have selected their product, users can navigate to a page from which they have access to CAD models, documentation, up-front pricing and lead times. In addition to system designers, distributors and equipment end users can easily use the tool to access replacement parts and spares for their equipment.
Keeping up with change The Linear MOTIONEERING tool for electric linear actuators is built on a modular architecture that enables it to evolve easily with the Thomson product line. As the company continues to advance its actuator offering with new features such as embedded intelligence and connectivity, customers will be better able to take full advantage of the latest technical advances available to meet their motion requirements.
The new Linear MOTIONEERING tool for electric linear actuators is available now at https://linearactuators.linearmotioneering.com.
About Thomson
With more than 70 years of motion control innovation and quality, Thomson is the industry's premier producer of Linear Ball Bushing® Bearings and Profile Rail Bearings, 60 Case® Shafting, ground and rolled Ball Screws, Linear Actuators, Gearheads, Clutches, Brakes, Linear Systems, and related accessories. Thomson invented the Linear Ball Bushing Bearing in 1945, and has set the standard ever since with an unsurpassed set of mechanical motion control solutions serving global commercial and aerospace & defense markets. Thomson Industries, Inc. has facilities in North America, Europe and Asia with over 2000 distributor locations around the world.
Thomson Industries, Inc., 1500 Mittel Boulevard, Wood Dale, IL 60191-1073; 1-540-633-3549; 1-540-633-0294 (fax); Thomson@thomsonlinear.com; www.thomsonlinear.com.