Why the Glide Screw™?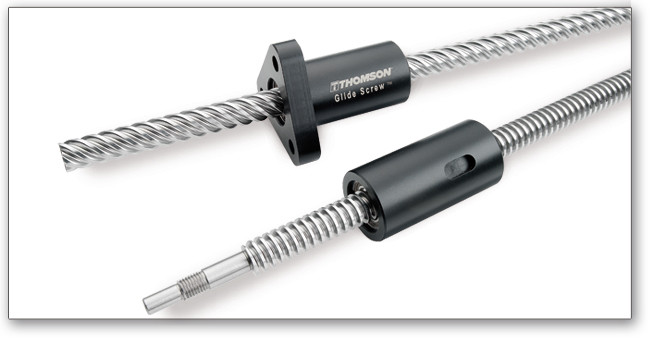 The Thomson Glide Screw is a breakthrough in linear motion technology that combines the best features of a linear bearing and a lead screw into something better than both. The patent pending Glide Screw delivers high performance, fast installation and less complexity in a small package.
Designing the Glide Screw into your equipment can help you deliver a solution that is more compact and reliable, and provides an overall lower total cost of ownership . It's easy to make the change from traditional solutions with stocked standard sizes and quick availability of custom solutions with help from a Thomson applications engineer.
Choose the solution optimized for today's designs. Choose Glide Screw.
Reduced footprint
Integrated lead screw / linear bearing
Side load / moment load capable
Reduced equipment downtime
Fewer failures with pre-aligned screw and bearing
Component alignment is not critical – smooth and quiet motion
Maintenance free with Thomson Lube-4-Life lubrication block standard
Lower cost of ownership
Faster installation
Fewer components for a simpler bill of material
Maintenance free! No lubrication required
Standard products in stock
Inch Series includes 3/16", 1/4" and 3/8" nominal diameters
Metric Series includes 4, 6 and 10 mm nominal diameters
Flanged and cylindrical nut bodies standard
Options for harsh environments
High temperature resistant – inside ovens or autoclaves (up to 175°C)
Clean room – in robot vacuum chambers, laboratories or medical equipment (class 1000)
Food grade – in packaging and food processing equipment
Custom products available
Nut configurations
Screw diameters
Thread leads
Custom changes
Easy to install
All that is required is a Glide Screw and an anti-rotation feature
No need for reference surfaces or the pain of "floating" your system into alignment